Post by Nicko on Mar 19, 2014 14:31:48 GMT -6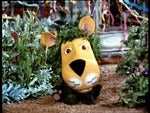 and with new watches that certainly is the case but vintage seems to have cured me of that.
I look at the little dings and dents, the patina of the dial and I see history not imperfections and I think thats why there are two camps, new and old.
I have been thinking about your insert and have come to the same conclusion you have, keep it missing! Again, this is a line some don't understand and others do, it borders on the metaphysical in some ways and that is that each imperfection is a piece of history that adds to the value of the watch.
Its one of the reasons I am really enjoying Ben Clymer's site, Hodinkee. He and the others there completely "get" vintage, now, they are not so extreme that a complete wreck of a watch is acceptable but things like missing pearls, spotting on the dial or hands a different colour to the dial because the hands have been replaced matter.
I think its consistency, your watch shows a consistent history that has meaning. The old "replacement" bracelet was done when something like that was done for practical reasons by the original owner so it fits with the history. Likewise if the original owner decided not to replace the pearl there was a good reason, probably practical in seeing what Rolex wanted for one back in the day and practicality and prudence probably told him that there was no way he was going to spend that amount on something he hardly noticed, see, its the story that matters more than the missing or dinged bit.
Now your adding to the history with practicality, not wanting to bugger about with such a valuable insert so as to retain originality, that adds to its history more than just plonking a new one in I think.
Its one of those things you either get or don't get and if you don't get it then vintage is probably not for you and thats fine as there are loads of lovely new watches out there to have fun with.
I guess I am lucky, I can stick my feet in both camps though to be honest I don't think new is the way for me any more. I have gotten more enjoyment this past year out of vintage than I have ever gotten out of new!
Anyway, I ramble and probably make no sense but then,thats a bit like vintage, 95% of the purchase or chasing after "the right one" makes no sense and thats the main appeal I think, I am fed up with everything making sense, it seems to make life very boring to me!
Thanks for this post my friend, you sir really get me. Not many do but you managed to.
Sent from my iPhone using Tapatalk