Post by boscoe on Sept 15, 2010 15:42:10 GMT -6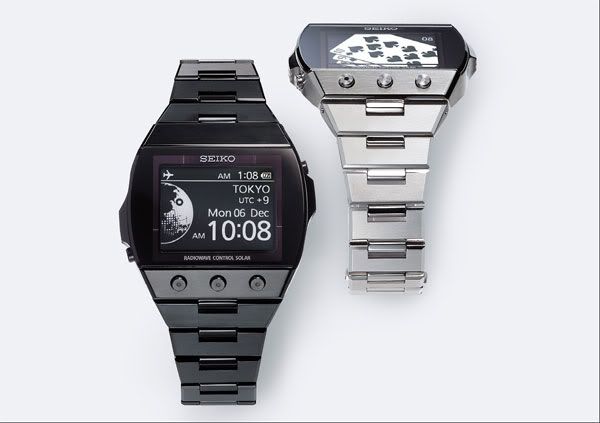 Seiko launches the world's first Active Matrix EPD watch
14 September 2010
Seiko Watch Corporation is pleased to confirm the introduction of the world's first EPD (Electrophretic Display) watch with an active matrix system. Three models will be available in selected major markets around the world from December 2010 onward.
When the demonstration sample was exhibited at Baselworld 2010, it attracted huge interest from watch enthusiasts, journalists and industry experts alike. With its innovative and very detailed graphics, its clear, high-resolution screen of 300 dpi(dots per inch), and its wide viewing angle, the new EPD watch demonstrated the future of digital time in a way that impressed the entire industry and opened visitors' eyes to the extraordinary potential of quartz timekeeping allied to innovative displays.
The new Active Matrix EPD watch is solar powered and its accuracy is radio controlled.
In addition to having an entirely new display system, the second generation EPD watch receives a time signal from the world's atomic clocks via radio wave so that the usual 15-seconds-amonth accuracy of the watch is enhanced whenever the watch is in range of the transmitters. The time signal it receives is from atomic clocks that are accurate to 10-13 seconds a day or one second in every 30 million years!
It is powered by a self-recharging solar battery, so that no battery replacement is ever required. Once fully charged, thanks to SEIKO's expertise in energy-efficient IC and other hi-tech electronics, the new EPD watch can run for up to nine months even without additional exposure to light. Furthermore, if no button is pressed while the watch remains in darkness for 72 hours, the 'sleep' mode is activated. In this mode, the watch remembers the time and continues to receive the radio signal for over three years. As soon as any button is pressed or the solar cells are exposed to light, it awakes and the display operates normally once again.
Source: Seiko Watch Corporation
www.seikowatches.com