Post by Adam on Mar 19, 2007 11:19:03 GMT -6
OMEGA SEAMASTER PLANET OCEAN - MODEL 2209.50.00
I'll unload a bit of my own history with Seamasters first:
This is my third Omega Seamaster and it should outlast my time on this planet. Many years ago, my wife bought me a TT Seamaster Deville just before our marriage when we lived in Africa. Unfortunately, it was stolen just 8 months later from my locker when I was playing a round of golf. Never saw it again. C'est la vie! I cursed that the thief would live in difficult times for the rest of his life. I look at that part of the world today and believe that he may well be!
Two years ago, I decided to buy a Seamaster for myself from an internet online watch dealer here in Australia. This one was a 2234.50 GMT black dial. The watch arrived by post and although it looked brand new in box (BNIB), I subsequently discovered that the model was 'old stock' bought from an AD in London, England and shipped out to this 'grey' watch dealer in Sydney. There was nothing wrong with it, it was just that I couldn't really work up any fondness for it. A few months later, I sold it and took about a 40% hit on it. Afterwards I regretted selling it and I got more than one "I told you so" from my wife. Without knowing it, I had become a WIS!
I subsequently had dalliances with Mido, Oris, Breitling and Rolex. Out of these, the only one I really liked was the Mido [which I still own] for two reasons. One, I like the design of the model and the other reason was that I dealt directly with an Authorized Dealer [AD]. This last fact was to become relevant in the acquisition of my third Seamaster.
I have always liked the PO and had read up all about the co-axial movement. I had not read a bad thing about PO either, except a few cheap shots posted on forums by certain other watch aficionados which I felt were unjustified.
At that stage, I did not want to go through another grey dealer or take the risk of on line buying from overseas with the chance of the watch being hit by importation duty and other risks, so I shelved the idea of a third Seamaster until last month when out of the blue, a friend of mine who I met through watch forums and lives not far away, very kindly informed me that a local Omega authorised dealer was substantially discounting Omega Planet Oceans. The sort of prices discussed were very reasonable. By this time my long suffering wife had cottoned on to me lusting for another Omega. I got a bit of a shock when she suggested we take a drive and just have a look. She saw my smile when the manager of the store let me browse through a few models and that was it. The 2209.50.00 smiled at me the most! My new PO is now a daily wear watch and I have to get it valued for insurance. [Or else!]
I cannot say enough about how great it is to buy from an authorized dealer in a shop as opposed to ordering and having that anxious waiting period before it arrives at your door and checking it over with a loupe after you have taken it out of the box for the first time.
The manager of this store was helpful and professional and when I selected the model, the bracelet was resized to fit me perfectly.
My watch was supplied with a 3 year international warranty, chronometer certification (COSC) and a pixel card. These cards fit in a cream colored leather pouch and the really fine looking red leather box contains the card pouch, small instruction book and a compartment for the spare bracelet links. All of this fits into a nice white cardboard box.
Outer box, red box seal and cards
The store manager also gave me a very nice Omega book that contains information and photographs of the history and achievements of Omega and a big range of watches as well as the Omega Ambassadors. A week or so later, he mailed me a Seamaster cleaning cloth which you can see in some of these photographs. A really nice, professional store manager. Makes such a change these days. Anyone looking for a new Omega, please PM me and I will supply his details.
Now to the watch. The Omega Seamaster Professional Planet Ocean to give it its elaborate full title is one of the most solidly built watches I have ever worn. It feels indestructible, which of course it isn't, but it just feels that way, rather like the 244 series Volvos; built to last, but a whole lot prettier than a Volvo! The model I selected was the 42mm model as the 45mm was just too large for my 19cm (7.5inch) wrist. It is a heavy watch on the wrist. On our kitchen scales it racked up 180grams including the bracelet minus two links. I do not think women who prefer wearing men's wrist watches will find the PO to their liking. A heavy watch has its pros and cons. You are aware it's on your wrist because of the weight which acts as a subconscious reminder not to walk too close to concrete or brick walls or pass through narrow portals that could scratch or damage the watch. I have a titanium watch which is so light I actually forget I'm wearing it, so it can, in a way, be more susceptible to getting bumped or scratched.
My PO is quintessentially a watch designed for wear during aqua sports and can be worn worry free in the ocean or the pool for two main reasons. The first is that its water tested to 60 ATM (600 meters). That's a long way down. Draw comparisons with Rolex Submariner and the Omega SMP's at 300m. The Rolex Sea Dweller of course having depth on dial reading of 1220m. There are so called diver watches that are claimed to survive to greater depths, but Omega and Rolex sports aqua watches don't look like a weight wheel from a barbell! 600m/2000 feet gives me peace of mind in the pool or ocean and is a far deeper than I would ever descend in water unless I was on a one way trip to DJ's locker, then it wouldn't really matter!
BRACELET
The second worry free reason is that my particular model has a stainless steel bracelet with a wetsuit extension capability and a two release button mechanism that won't open the clasp unless both buttons are depressed simultaneously. The bracelet is solidly constructed and is beautifully designed. Both the fold over extension and the wetsuit extension fit nicely within the clasp without extending on to the bracelet links. I know of other bracelets that the fold over linkage extends into the bracelet links and leaves score marks on the links after a time.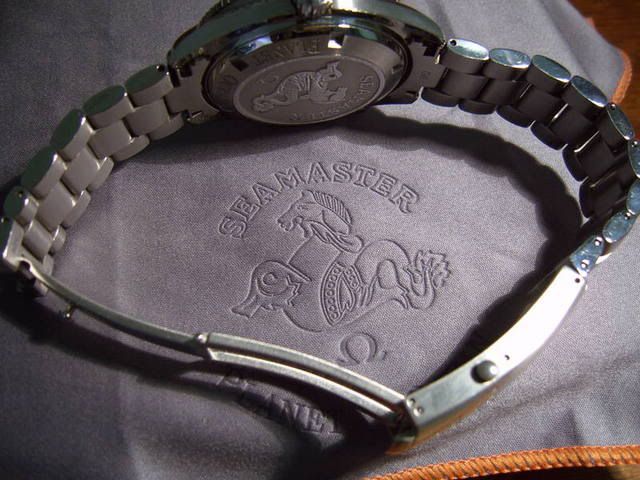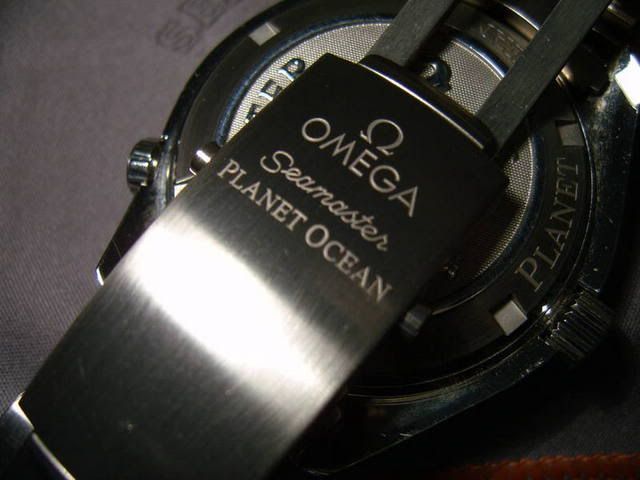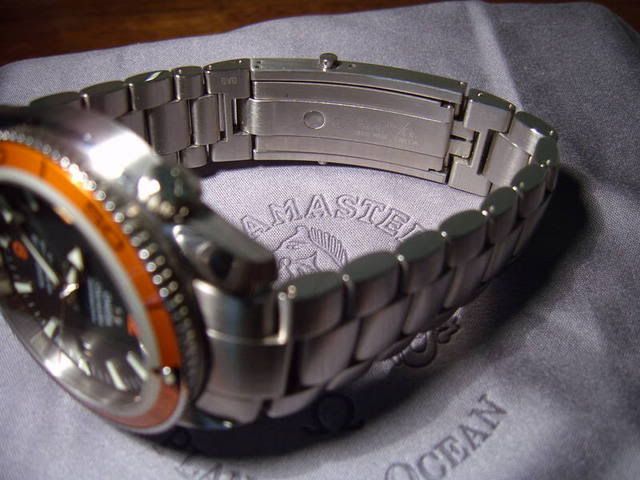 I would say that the next best to the PO bracelet is the Breitling Professional II bracelet followed by the Rolex, but that's just my opinion. The PO range also have rubber and leather straps available, but I don't think they look as nice as the SS bracelet. I suppose that one could always buy a PO of their choice with the SS bracelet and order the strap later. This would be a lot cheaper than doing it the other way round I would think. The only possible gripe I might have with the SS bracelet on the PO is the lack of finite adjustment inside the clasp. Omega have not chosen this option and have half size links that can be removed for resizing smaller. I believe that Omega have done this by design and not accident to minimize the use of springbars in their bracelet and by doing so reduce the chances of the bracelet separating without warning. I had this happen to me on another watch with a bracelet while I was parking my car. The bracelet on my PO has really strong sleeve pins connecting the links and the clasp. These have to be removed by a special tool. The only springbars are the two attaching the bracelet to the lugs of the watch. Even these are a real job to remove unless one has the right tool and the technique as they are very strong springs! I tried to remove the bracelet from the lugs with a cheap springbar remover tool and ended up bending the tool!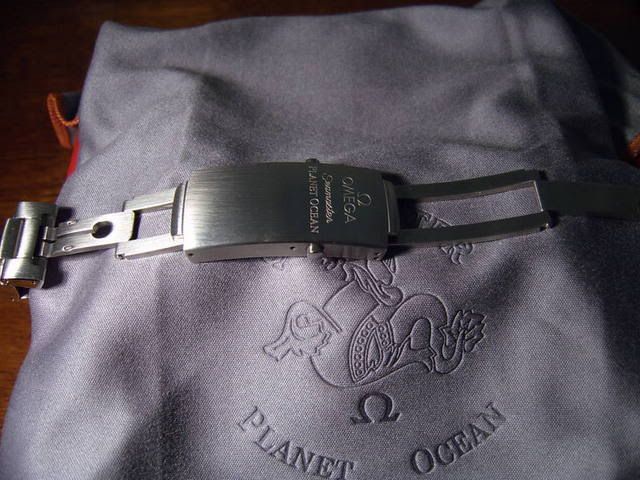 Profile:
I measured the case including the crystal and found it to be 15mm. This looks a lot when you hold the watch up and look at it side on. However, on the wrist it appears to be thinner than it really is. This model has 20mm lug width. The 45mm model is 22m because it would look a bit odd if it were the same size as the 42mm.
The case edges are bevelled and shouldered to create the illusion of slimness. The lugs are designed to flow into the case edge and are highly polished. The right underside lug has the micro engraved serial number of the watch. I needed a loupe to read the eight digit number as it is very small.
The crown:
The screw in crown has pull-out sequential positions for the initial winding of the mainspring of the movement, date and time synchronization. The crown has the Omega sign which looks impressive. It has no shoulder protection.
The helium release crown is at the 10 o'clock side of the casing and unless the watch is subjected to an helium environment, this crown should be kept closed. This crown has the chemical symbol for helium on it. He
The Crystal:
I could not find any data relating to the thickness of the crystal, but I would guess it is at least 4mm thick. It is slightly domed and cambers very nicely into the bezel edge with virtually no raised edge that some other watches have. The Planet Ocean has a double sided coating on its crystal to minimize reflection. I read that there are some who don't like the outside ant-reflective coating and remove it with Polywatch rubbing compound. I have no desire to do this. One of my dislikes of the Rolex Submariner was the highly reflective flat crystal which sometimes made the dial difficult to read outdoors. It's very useful for reflecting sunlight and I guess could be used in a heliographic way to attract attention or to irritate people at the next alfresco lunch table.
The Dial:
The jet black dial has references to it's water pressure capabilities and the fact that it is a co-axial movement chronometer and that it is a Seamaster Professional, but no reference to it being a PLANET OCEAN which only appears on the case back. The dial face has a mixture of luminova coated indices and Arabic numerals of 12, 9 and 6 all in a reddish/orange color on a black dial face. This makes the watch extremely easy to read, particularly in subdued light. The hands and indices have very good luminosity which become progressively visible towards total darkness and remain readable for many night hours. All Omega SMP's have among the best luminosity in both intensity and duration. I know of other more expensive brands of watches that are just not in the same league. The date window at 3 o'clock is not magnified, but is of adequate size and I have no trouble reading it from any angle.
The hour and minute hands have a unique arrowhead design which one either likes or hates. I personally find them to be out of the ordinary but blend well with the whole of the design of the Planet Ocean models. The second hand has a small arrowhead on it with a red tip. I can't fault the dial, its just beautiful.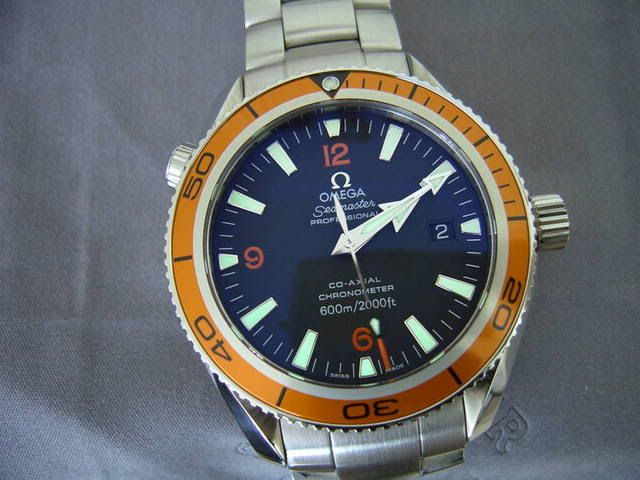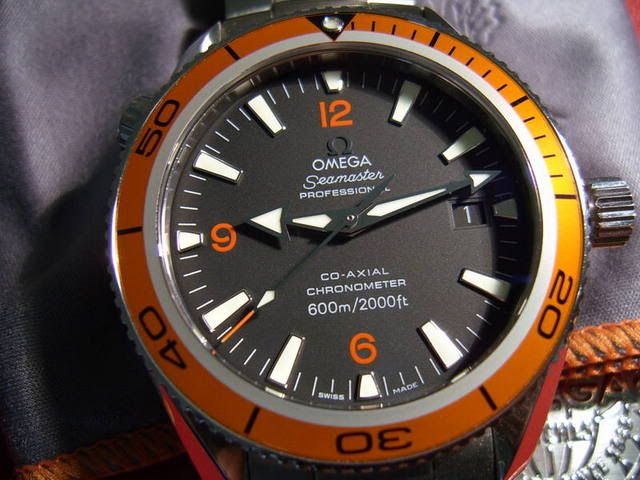 Bezel:
The bezel on my model is the orange color one and I personally like it. The rotation is counter clockwise only and has very positive clicks. The lumi pearl inset in the bezel sits inside an inverted black triangle, the point of which positions exactly in line with the 12 o'clock dial marker.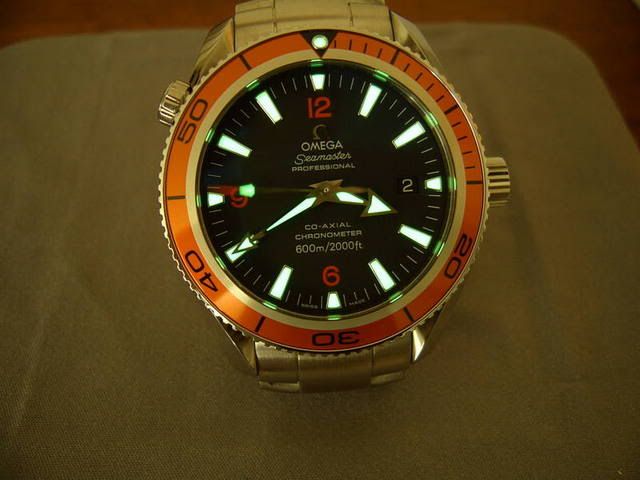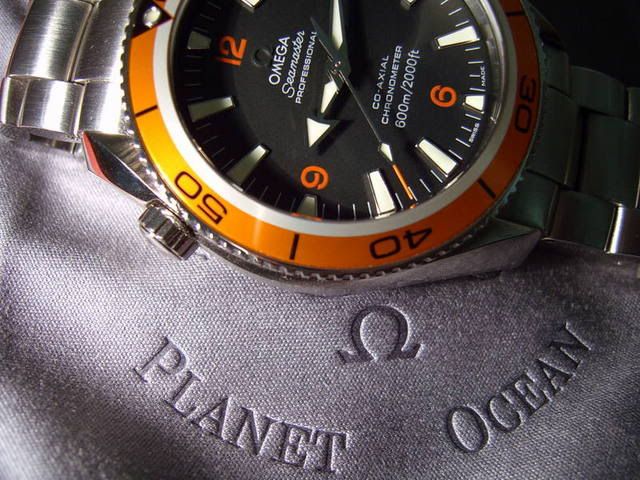 Case back:
Words can't really describe the marvellous looking case back of the PO with the larger Omega Sea Monster beautifully embossed in the steel and the words PLANET OCEAN around the edges. It is one of the best designs I have seen on a watch case back.
Using a loupe, one will see there is a circular minute red seal, about the size of a pinhead situated over the edge of the lid and the casing edge. This is the seal put on by the factory after it has been checked. If the watch has been opened since that time, the seal will be broken.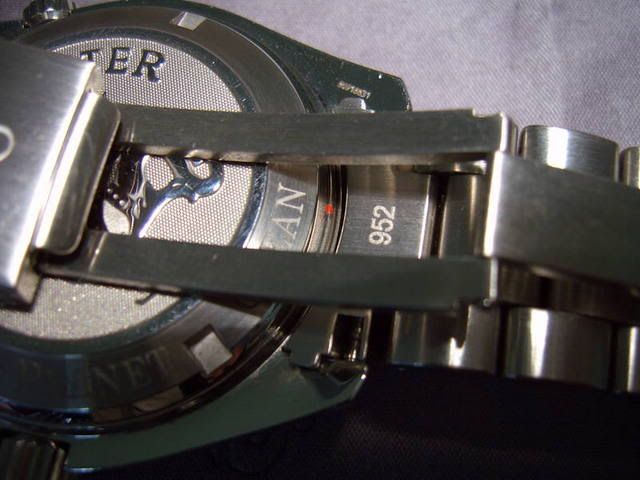 Movement
The co-axial movement on this range of Omegas is a relative newcomer. The history of it relates to an English horologist *Dr. George Daniels MBE, DSc, FSA born 1926 who invented it. The co-axial differs from the conventional lever escapement common to other mechanical watch movements, in a design than greatly reduces friction and is claimed to require less lubrication and maintenance. At my time of life, I do not require accuracy to within seconds per month, but I do like my watch to err on the side of gain rather than loss in time which my PO does ever so slightly.
OVERALL
The Omega Sea Master Professional Planet Ocean is a fine mechanical Swiss watch, beautifully designed and constructed to give years of reliability. I never find it boring to look at. I believe that Omega have in this range of models, a superb sports aquatic watch, great in design, aesthetically pleasing to the eye and unlike heavier and thicker diver type watches it can be worn for most occasions. The choice of orange or black bezels enables the buyer to choose the sport look or a more austere appearance for the executive. If I was still at work, I would have chosen the black bezel with the red primary numerals. PO models have the optional 45.5mm diameter case for the man with wrists above 7.5 inches which will no doubt please many.
Stevie
*Additional reading in Wikepedia relates to Dr Daniels.